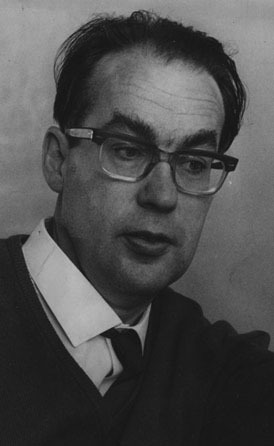 Kettil Bruun (1924-1985) served as the Director of the Social Research Institute of Alcohol Studies in Helsinki from 1955 until 1968 and as Secretary of the Finnish Foundation for Alcohol Studies from 1955 until 1980. He held a professorship for three years at Stockholm University in Sweden and served in a number of expert capacities for the World Health Organization. In 1971 Kettil Bruun was the first social scientist to receive the Jellinek Award, which is given to the person deemed to have made, during the preceding years, the greatest scholarly contribution to human knowledge of problems relating to alcohol, in their designated research area.
The vitality of Finnish alcohol research was due in great part to Kettil Bruun's creativity and inspiration and his work won wide international recognition.
Kettil Bruun was a pioneer in many areas of alcohol social research. During the 1960s he published studies in which he described and critically reviewed official management and control of deviant behaviour. His approach was to focus attention at the level of policy, rather than on the problem individual. Kettil Bruun subsequently headed the team of authors which in 1975 released the study Alcohol Control Policies in a Public Health Perspective. The 'purple book', as it became known, made a profound impression on the international discussion of alcohol control policies and research in this field. Kettil Bruun was also known for his innovative use of a range of research designs and methods. Not only did he conduct experiments, but he used interview material, official statistics, participant observation, fiction, expert interviews and archive records. He completely ignored the academic controversy about 'hard' and 'soft' methods. At the time of Kettil Bruun's death, Klaus Makela and Robin Room both paid tribute to his skills as a facilitator and team leader. He attracted research teams combining many age groups, scientific fields and cultures, and had an exceptional talent for eliciting collective scientific thinking from the most unlikely combinations. He was committed to collegial work in a community of scholars and to putting knowledge to use in the world.
You can read Klaus Makelas Obituary: "Kettil Bruun: A Scientist of Conviction"
(published in British Journal of Addiction (1986) 81, 313-314)
You can read Robin Rooms Obituary: "Kettil Bruun 1924-1985: an appreciation"
(published in Drinking and Drug Practices Surveyor (1986) No.21 August, 42-49)
You can read Christoffer Tigerstedts article: "Alcohol policy, public health and Kettil Bruun"
(published in Contemporary Drug Problems Vol. 26, No. 2, Summer 1999, 209-235)