Social tours (Wednesday June 1, 2016)
Boat tour, lecture about Swedish alcohol policy and dinner at Skarpö
Time: 14:00-20.30
Meeting Point: Outside the conference centre 13.15 or Strandvägen quay-berth 14. The name of the boat is M/S Askungen and leaves at 14.00 sharp.
Maximum 50 people.
The tour starts at Nybroviken, facing Dramaten in Stockholm from which the boat will depart.
The boat will take you through the beautiful Stockholm Archipelago to the idyllic island Skarpö. Skarpö is a calm and beautiful island roamed by cows and sheep and is the home of much of the Stockholm archipelago wildlife including many kinds of birds as well as seals that inhabit the archipelago waters. The island is also the location of Systembolaget's learning center with conference and training activities. Systembolaget has the retail monopoly of wine, spirits and beer in Sweden and is as such an important part of Swedish alcohol policy.
Systembolaget's Education Center conducts a large part of the company's internal training programs including store management, leadership development, product knowledge and training in food and beverages. The goal of these trainings is for employees in all stores to have the same foundation in terms of knowledge, service and responsibility. Skarpö is also where Systembolaget host their annual Alcohol Research Conference.
Tour program:
Boat trip to Skarpö.
Presentation about Systembolaget, the retail monopoly of alcohol in Sweden and its important work towards minimizing alcohol related problems in Sweden.
The presentation is followed by a three-course dinner, at the venue restaurant that strives to be at the forefront when it comes to food trends. The kitchen also strives to use locally produced and organic ingredients.
The return journey is by bus. Expected return is at 19.30.
Price: 500 SEK per person (including 28,30 SEK VAT)

The Vasa Museum
Time: 14:15-15:45
Meeting point: Museum entrance, Galärsvarvsvägen 14
The Vasa is the only preserved seventeenth-century ship in the world, and a unique art treasure. More than 95 percent of the ship is original, and it is decorated with hundreds of carved sculptures. The 69 meter-long warship Vasa sank on its maiden voyage in the middle of Stockholm in 1628, and was salvaged 333 years later in 1961. For nearly half a century the ship has been slowly, deliberately and painstakingly restored to a state approaching its original glory. The three masts on the roof outside the specially built museum show the height of the ship's original masts. Today the Vasa Museum is the most visited museum in Scandinavia, with over one million visitors a year. There are ten different exhibitions around the ship to tell about life on board the ship. A film about the Vasa is shown in 13 different languages. In addition there is a well-stocked shop and a pleasant restaurant. We have arranged for a guided tour with an English speaking guide followed by a Swedish "fika" (coffee/tea and cinnamon bun) in the restaurant. The price includes admission so you are free to explore the museum on your own after the tour and "fika". The Vasa Museum is located on Djurgården close to a number of other museums and attractions, such as the ABBA Museum and the Skansen Open-Air Museum that we recommend you to visit on your own after this tour.
Price: 179 SEK per person (including 7,68 SEK VAT)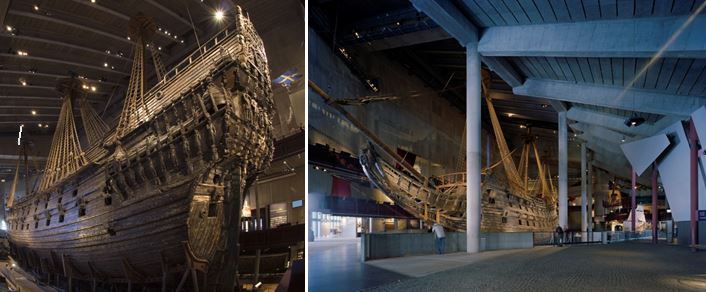 Tour de Stockholm - Social bike ride through and around the city of Stockholm
Time: 14:00-15:30 or 14:00-17:00 (your choice)
Meeting point: Conference Venue
Is there a better way to experience a city than from the bike saddle? This tour is divided into two parts. In the first part we will ride were the traffic is not intense. From the conference area we ride out to the park area of Djurgården (a national Swedish city park). In the second part of the tour we will ride on more traffic intense roads. The first part of the tour is expected to take 1-1,5 h. The second part will also take 1-1,5 h. You are welcome to join both parts of the tour or just the first part. In both parts of the tour we will ride in a slow pace and stop for coffee and drinks and at some particular view points and locations of interest.
Please note: A, this is a social tour! (No bonuses will be given to first person arriving to our stops!)
Please note: B, you have to have a bike! (Below you will find rentals).
It is recommended that you have some experience of riding in a city even if you plan to join only the first part of the tour.
Bike Rentals: City Bikes offers a service that allows you to rent bikes and drop them off at any City Bike-bike stand in Stockholm. A 3-day bike card costs approximately 165 SEK and can be purchased in most kiosks or public transport centers. For prices, maps, and more information visit: http://www.citybikes.se/home
Or rent a bike at Bike Sweden, you can visit there website at www.bikesweden.se/en/rent-a-bike
Price: This tour is free of charge but you need to pay for coffee and/or refreshments where we stop as well as the rental cost for your own bike.

Walking tour of the old town and The Royal Armoury
The tour is canceled due to low participation.